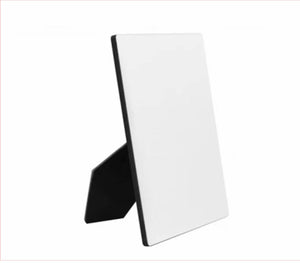 Hardboard- Photo Frame- Dry Erase Board- 5"x7"
Hardboard
5" x 7"
5mm thick
White Gloss
Black Back
Brown Stand included
Recommended Pressing Temp and Time Is:
385* for 20s.

Remove ,lay flat and place a heavy object on it (This helps prevent warping)
Once completely cooled add your design and Press again for 60s.
Heavy pressure.